ZIPOL-H, Metal-Oxide, Gapless
Silicon Housed Surge Arresters

ZIPOL-J



Governing Specifications : IEC 60099-4, TS EN 60099-4
Nominam Discharge Current (ln) : 10kA (8/20 µs-wave)
IEC Line Discharge Class : 3

The leader of the surge protection industry in Turkey, DİSAŞ now manufactures metal-oxide arresters in polymeric (silicone) housing within its ISO-9001 Quality management System certified by Turkish Standards Institution (TSE).

Polymeric Housing
Polymeric housings, made of high quality silicone and manufactured at Disaş facilities can maintain their hydrophobicity and withstand capability against ultraviolet exposure under most severe atmospheric conditions. At the same time, their special design prevent moisture ingress thanks to their high sealing performance.
ZIPOL arresters provide the user with technical advantages as compared to arresters in porcelain housing as follows
- increased leakage distance with special sheds
- ease of transport and installation facilities by lightweight of arrester
- resistance against damages from shipping, handling and vandalism.
ZIPOL arresters, made of sprecially designed stack of varistors and silicone housing, offer both excellent protective and physical characteristics.
Varistors
Varistors, supplied by one of the world's leading manufacturers of metal-oxide blocks, are being tested at disaş labs upon arrival, in accordance with international standards. Varistors are then put together by means of an epoxy-based wrapping system, to form one single and rigid column of M.O. blocks. This special design not only ensures a high withstand capability against high current surges and high physical strength, but also enables to maintain the thermal characteristics over a long period of time and to keep varistors within the wrapped stack during an arrester's failure.

Tests
Disaş labs are capable of performing all "routine" and "acceptance" tests determined in the international standards. All varistors and polymeric housings used in ZIPOL arresters go through "routin" tests before arresters are assembled within the manufacturing processes of ISO-9001 quality management system. Complete ZIPOL arresters then undergo all routine tests according to the standards and every arrester satisfying ISO-9001 quality management system, is ready for shipment.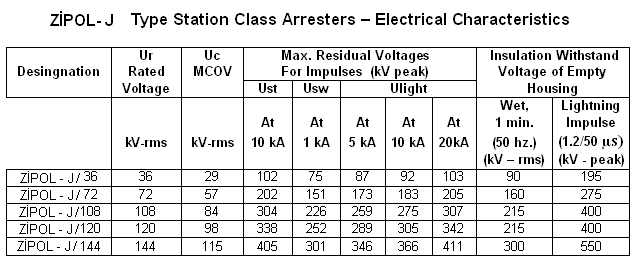 Ur : Rated Voltage
Umcov : Max. Continuos Operating Voltage of the Arrester
Usteep : Steep Current Impulse Max. Residual Voltage(1/20 µs-wave)
Usw : Switching Current Impulse Max. Residual Voltage (30/60 µs-wave)
Ures : Lightning Impulse Current Residual Voltage (8/20 µs-wave)
TOV : Temporary Overvoltage Capability

Note: If the required arrester's rated voltage is different than Ur values on the above list, please consult DİSAŞ.


Arrester Mounting

Standard Supply: ZİPOL-J arresters are base-mount type arresters. They shall be mounted with 4 pieces, M16 bolts (supplied with the arrester) on a concrete and/or steel foundation. M12 "earthing" bolt is also placed on the arrester base. Line connection shall be made by using cylindrical terminal bolt ( either φ 30 x 80 or φ 40 x 120 mm) on arrester top.


Optional Devices: Arresters with rated voltage (Ur) above 120kV are supplied with grading rings and its mounting parts. ZİPOL-J type arresters can be supplied with discharge counters (with or without current-meter) and insulating bases upon request.