ZLA-X15 Series,Metal-Oxide Based Surge Arresters without gaps
for system voltage up to 420kV

ZLA-X15



Nominal Discharge Current (ln) : 10kA (8/20 µs)
IEC Line Discharge Class : 3
Energy Capability : 6.1 kJ/kV,
High Current Impulse Withstand : 100 kA-peak (4/10 µs)
Pressure Relief Capability : 50 kA-rms, symmetrical
Governing Specifications : IEC 99-4, TSEN 60099-4
Installation Site : Outdoor , 0-1200 m. altitude
Rated Frequency : 48-62 Hz

*Surge arresters with
EC Line Discharge Class : 4
Nominal Discharge Current (ln) : 20kA (8/20 µs)
are available, plase consult Disaş.
Application
Protection of transformers, switchgears and devices in high voltage networks from damages caused by internal or atmospheric overvoltages.
Advantages
Stable protective characteristics, high energy absorption capability, improved reliability, hermetically sealed, intensive to moisture and contamination, explosion-proof, self-supporting, ease of maintance.
Construction
The metal-oxide blocks combine excellent proctetive characteristics with steady-state performance to maximize the protection of electrical equipment against surge overvoltages.
A proven internal heat transfer scheme ensures long term thermal stabilitiy of the arrester. A solid alignment system of blocks provides robustness and enhances reliability. Their large modular units make the ZLA-X15 surge arresters suitable for use in regions subject to a high degree of atmospheric pollution. The active parts of ZLA-X15 arresrters are embedded in a hermetically sealed housing of high strength porcelain, which has sheds of a high dielectric strength and is filled with nitrogen. High strength heavy duty flanges with their gas diverter nozzles are made of a weather resistant light alloy and are cemented to the housing. Furthermore, flanges are fixed to the housing by means of corrosion-resistant clamps. Sealing rings of weather proof and ozone resistant rubber and non-corrosive metal diaphragms ensure perfect sealing over years.
Each unit of ZLA-X15 is fitted with pressure relief devices and gas diverters. In the rare event of an arrester being overloaded, thee prevent shattering of the porcelain housing up to a short-circuit current of 50 kA-rms.
Selection
The ZLA-X15 surge arresters are rated in accordance with their rated voltages and their maximum continuous operating voltages (MCOV) applied across their terminals in service. These arresters can be applied where the maximum line to ground voltage at the arresters location is less than or equal to the MCOV of the arrester.
Accessories
Insulating sub-bases, gaps and discharge counters (with or without mA-meter) can be supplied on inquiry as separate items.
Grading rings for arresters Ur>120 kV is a standard supply.
Quality Assurance

Already established rules of extensive quality control in our production lines easily meet the requirements of ISO-9001 Standard and Disaş' metal-oxide arrester manufacturing facility is ISO-9001 certified by Turkish Standards Institution (TSE) since 1996.
Metal-Oxide varistors receive 100% routine tests before assembly into an arrester. According to the results of these test, each varistor is selected for final assembly based on residual voltage, to assure the residual voltage of the complete arrester will not exceed standard values.
Following final assembly, all routine tests required by IEC 60099-4 are performed on each arrester. Only accepted complete arresters continue on for final packaging and shipping.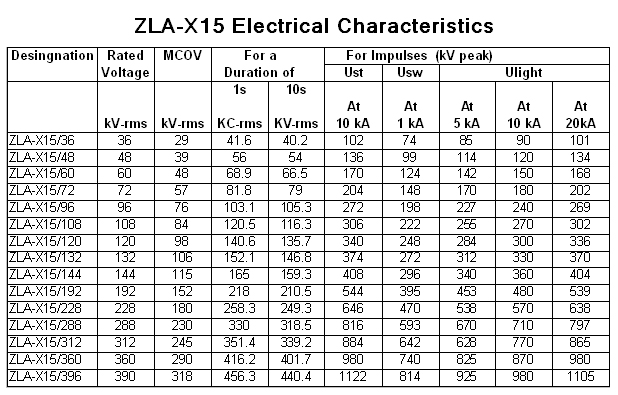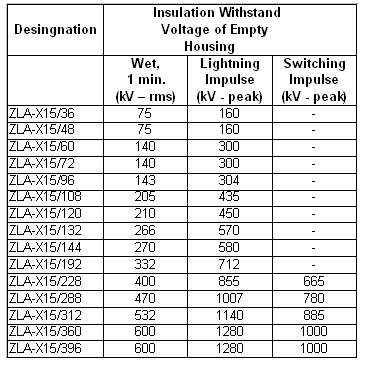 Note 1: Please consult DİSAŞ, if the required rated voltage is not shown in this table.
Note 2: Max. Residual Voltage of complete arrester
-Steep Current Impulse, waveshape : 1/20 µs at 10 kA (Ust)
-Switching Current Impulse, waveshape : 30/60 µs at 1 kA (Usw)
-Lightning Current Impulse, waveshape : 8/20 µs (Ulight)
-TOV: Temporary Overvoltage Capacity
Note 3: Insulation Withstand Characteristics of empty housing
-Power frequency Withstand Voltage: 50Hz (wet)
-Lightning Impulse Withstand, waveshape : 1.2/50 µs (dry)
-Switching Impulse Withstand, waveshape : 250/2500 µs (wet) (for arresters Ur > 200 kV)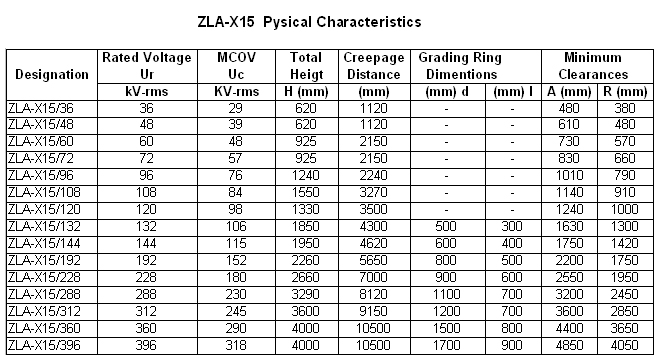 Note: Arresters with creepage distance 31.5mm/kV are available, if required. Please consult Disaş for more information.